When hateful anti-Muslim bus ads came to Philadelphia, the community quickly got to work organizing a multi-sectoral, multi-faith response.  The outcome?  The #DareToUnderstand Campaign, among a number of other initiatives, using this occasion of hate as an opportunity to connect, collaborate, listen, and learn.    We're proud to promote this incredible display of interfaith cooperation in response to hate, with the hopes that others in the Shoulder to Shoulder network can use these resources to spark ideas and encourage collaborate responses in other communities.
Here's the rundown, from the Interfaith Center of Greater Philadelphia's website:
More than 4,300 people signed the petition standing in solidarity against the ads.
Over 100 people and groups posted #DareToUnderstand photos on social media, designed by artist JJ Tiziou.
A digital billboard featuring our Dare to Understand photo ad went up along I-76 for the first two weeks of April.
A full back page ad in Metro

Philadelphia

newspaper displaying Dare to Understand images under the banner "Replace Hate with Understanding" reached up to
Two urban billboards are now displaying in North Philly (Broad and Lehigh) and Center City (9th and Spring Garden) which will run through May.
We have distributed Dare to Understand bumper stickers and postcards to thousands of individuals throughout the region (email us for your FREE bumper stickers).
More than 200 people attended a rally at Love Park with Mayor Nutter announcing the Dare to Understand campaign.
And we have raised over $51,000 in local foundation grants and individual donations to continue this campaign into the spring and summer.
On April 29, we honored SEPTA and Gino Benedetti at our annual Dare to Understand Awards Banquet and Concert.
And that's not all. We have also created a resource guide and online education packet for school and faith-based educators equipping them to turn this situation into a teachable moment. Please check out these and other education resources in the links below!
A Teachable Moment: Education Resource Guide Now Available
The Interfaith Center has created two student activity guides for use by educators and other adults who work closely with young people. The "#DareToUnderstand" and "Taking a Stand" activities will help students to learn strategies for dispelling stereotypes, gain communication skills for articulating their identities, passions, and questions, and express curiosity in respectful ways.
Click here to access the "Replacing Hate with Understanding" Student Activity Guides.
Dare to Understand Poster/Photo Contest
This year, the Interfaith Center will be holding its first-ever poster/photo contest with the theme of "Dare to Understand." Drawings or photos must be original, correct in safety concept and the exclusive work of the student entering the contest in idea, design and execution. All artwork should be positive in approach, demonstrating only positive behaviors supporting the ideals of pluralism.Please click here to learn more about the Dare to Understand Poster/Photo Contest.
Walking the Walk™ Youth Initiative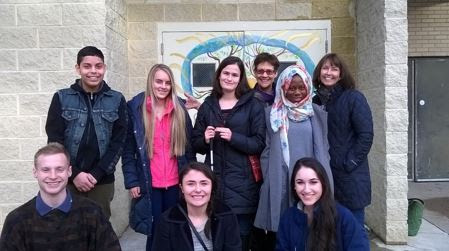 Walking the Walk is a nationally-recognized initiative that provides teenagers with experiences, skills, and resources necessary to live in a diverse world, deepen their own identities, and break through walls that distance and divide them from people of other religious, cultural, and economic backgrounds. Field-tested in urban and suburban settings with schools and congregations of many faiths, Walking the Walk features an innovative curriculum designed by a multi-faith professional team with expertise in youth development, service-learning, and systems change. Click here for the 2014-15 Walking the Walk flyer!
If you are interested in using this curriculum with your own organization, congregation, or community, please check out the Walking the Walk Curriculum Flyer and Curriculum Goals! We would love to spread this fantastic program across the country!
Other Resources
Please make use of the following links to access the Interfaith Center's full breadth of resources created in response to the anti-Muslim ads in Philadelphia: