Participants of the Shoulder to Shoulder Emerging Religious Leaders Seminar are asked to take an action step following their experience.  Participants can write a blog, opinion piece, or sermon; pull together an event or talk; or otherwise take action to reach a wider community with the conversations and experiences they've engaged in through the ERLS program.In October, 2015, Michal and Sondos, two ERLS 2015 participants, brought Christians and Muslims together for a mixer and workshop series in Southern California and wrote about it on their blog, MissUnderstanding:
"It Takes a Village" – all ages take steps to become Change Agents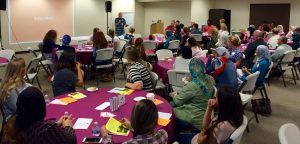 "Are you nervous? Because I'm nervous!" The crowd giggled — yes, nervously — at Pastor Abraham's pointed honesty at the third "2 Faiths 1 Friendship" Mixer last Saturday afternoon. Since the theme of the afternoon was self-awareness, Pastor Abraham appropriately honed in on the emotions in the room of over 100 Muslims and Christians gathered together in the name of peace building and friendship.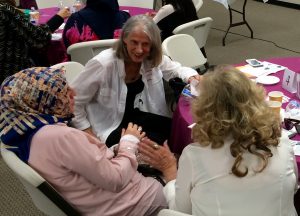 The majority of attendees were first-timers and unsure of what to expect from the event, but the energy in the room shifted quickly from nervousness to excitement as the group split into their age-appropriate workshops. Both a Muslim and a Christian instructor led each of the three workshops in self-awareness activities that encouraged reflection about God's unique purpose for every one of us.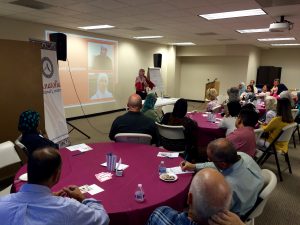 As one of the instructors for adults, Noha Alshugairi, put it, "Unless we understand ourselves better, we could be reacting to what is going on around us rather than being in charge of our situations. The best way to come to know and understand our auto pilot is to gain awareness of our emotions." In other words, the first step to becoming a Change Agent is to gain awareness of ourselves and our individual roles in the collective responsibility to facilitate peace on earth as practicing Muslims and Christians.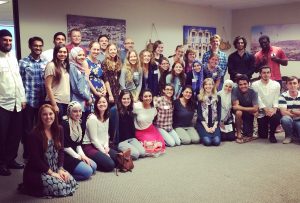 During their workshop, the young adults talked about learning to understand how God had made them and what that means for sharing stories of your life with others as a way to build bridges. After an introduction by Sheikh Jamaal and Michal, they split up into small groups and started sharing their stories. Upon reflecting together, they came up with many creative ideas on how they could continue to grow in friendship and join hands to make a change in their environments and around the world.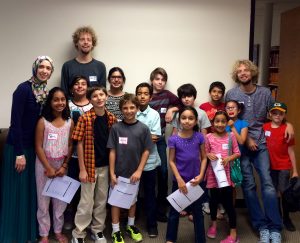 The 7-14 year olds gathered with Ruben and Efraim, AKA The Tornado Twins, and Sondos for hilarious, chocolate-themed ice-breakers interspersed with serious discussions about prayer, purpose, and inclusion. These young Change Agents impressed everybody with their ease in opening up about their sincerest wishes for the world and their ability to make friends instantly. "It was kind of cool to see other people interested in what we do and what we believe," said Talha, a 10-year old participant from the Muslim community.
It is inspiring to see young and old rally together to learn what it means to become who God has made them to be and put their gifts and talents in action to make positive changes in Muslim-Christian relations and society at large.
For many more pictures and stories, check out our Facebook Album.
Originally posted on MissUnderstanding, October 19, 2015.